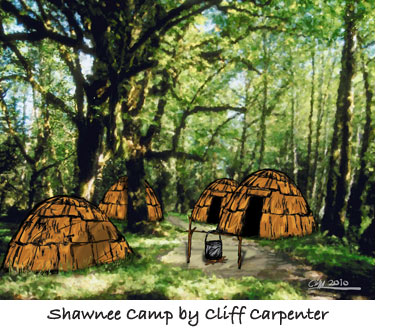 Learn the Shawnee Language website is dedicated to helping Shawnee Indians learn the lanugauge with this online tool. The language is broken down into basic categories and we would like your comments of new statements or words you would like added. You will find sound files to hear how the words are pronounced. These words use a special Shawnee Alphabet Downdload it here.

Special thanks to Absentee Shawnee Governor, George Blanchard for recording Shawnee words.
info@learnshawnee.com
*
note if you are using a web based email such as Gmail, Yahoo, etc, you will need to type info@learnshawne.com into the window you use to send emails.

This website was built by Cliff Carpenter, A Shawnee Indian, enrolled in The Eastern Shawnee Tribe.
Also if you think this site is helping, please donate (click on the donate button below, to pay by credit card) to help keep it up and running. You can also donate by check, send to:
Learn Shawnee, P.O. Box 1243, Joplin, MO 64802 (please make all checks payable to Cliff Carpenter)